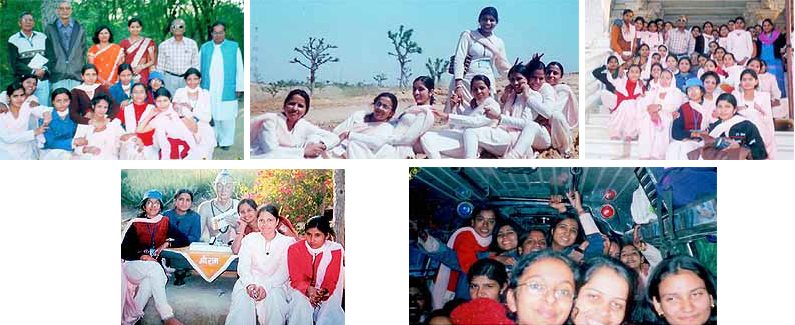 EDUCATIONAL TOUR
As per the scheduled planning an educational tour was organized to pilani, an educational excellence of the state. For this all the responsibilities were distributed among the pupil teachers. They made it possible by their own from collecting fund to and having abases and organizing all the activities including food and refreshment management and the cultural activities and the site-seeing programmed etc. Under guidance of the lecturers and the principal and the leadership of the four house leaders Neeraj, Sulochana, Khushboo and Renubala on 16.12.06 this tour started at 6:30 in the morning from the college gate and After taking the breakfast at Fatepur Shekhawati, it reached plain via Chirawa at 11:45 am. And thereafter reached Panchwati to have the previously prepared and individually taken with themselves lunch. It was a proper place to use the Music system and having the dance performances in the groups and collectively .The staff members also participle with their choices.
After enjoying this session our buses started for a visit to the Sarswati Temple and Shiv Ganga. The Temple and the artificial canal is a worth seeing places and are in accordance with the fame of Birlas. At 5 pm in the evening our Troup started back to JhunJhunu for having a Darshan at Rani Sati Temple and the evening tea there
All of us had an appreciation for the grand Ranisati Temple and most of us performed a worship there. After taking the tea at a near by reaustorent just out of the main gate of the temple, near about at 7:30 pm we started bake to Fatepur Shekhawati as a dinner was awaiting there at Do Janti Balaji Temple.
After having a Darshan and the dinner in grand lawns of the Do Janti Balaji Temple, we started back and reached to our college at mid night. Most of girls have already phoned to their relations or guardians, who were abating for them. The college staff helped the remaining girls to reach their respective house. Whose guardians had not turned up. The educational tour organised by our college and under the able guidance of our respectable teachers will be remembered for ever by us, said by all students.